Article (PDF Available) · January with 42 Reads. Export this citation. Jan Krikken at Naturalis Biodiversity Center · Jan Krikken. Naturalis. A second species of Platygeniops Krikken, (Scarabaeidae: Cetoniinae: Trichiini: Osmodermatina) is described from the Myanmar-Thai-Malay isthmus and. A series of. taxonomic publications on Asian. Bolboceratinae were then made by Krikken. (ab, ab, , , ), Carpaneto.
| | |
| --- | --- |
| Author: | Dohn Brashicage |
| Country: | Martinique |
| Language: | English (Spanish) |
| Genre: | Environment |
| Published (Last): | 17 November 2013 |
| Pages: | 365 |
| PDF File Size: | 5.7 Mb |
| ePub File Size: | 15.89 Mb |
| ISBN: | 154-9-15300-190-6 |
| Downloads: | 30711 |
| Price: | Free* [*Free Regsitration Required] |
| Uploader: | Maular |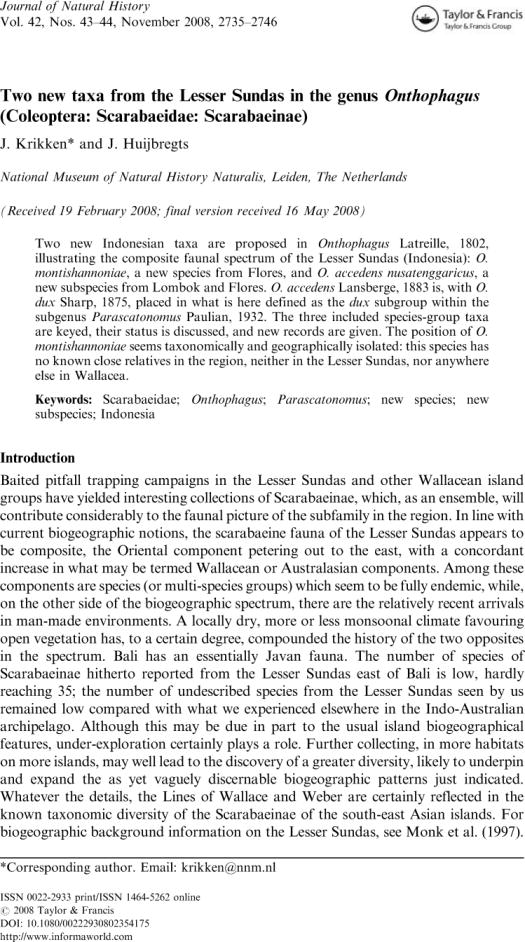 Platygeniopsa new osmodermine genus from Southeast Asia Coleoptera: A new Ingrisma species from Hainan Coleoptera: The Afro-Asian Bolboceroides validus group Coleoptera: North American myrmecophilous beetles of the genus Cremastocheilus: Some unusual genera and species from Africa Coleoptera: Asian bolboceratine scarabs of the genus Bolbogonium Boucomont Coleoptera: A new Centrantyx from Ethiopia, with notes on krikkne genus Coleoptera: A peculiar new cetoniine beetle from Lombok.
New bolboceratine genera from southwestern Africa Coleoptera: Distinguishing the Sundaland species in the Onthophagus Parascatonomus aurifex group Coleoptera: Notes on Asian cremastochiliform genera, with descriptions of two new species Coleoptera: A new genus and species of cetoniine beetle Col.
New cetoniine taxa from Africa and Asia Coleoptera: Taxonomic diversity of the genus Ochicanthon in Sundaland Coleoptera: Additional species in two African genera hitherto considered monotypic Col. Samuel Constant Snellen van Vollenhoven and his entomological work. Large-eyed Onthophagus species of Sundaland: Distinguishing the Sundaland species in the Onthophagus.
Mimobolbus (Bolboceratops) imitator Krikken
Hope, with notes on its relatives Coleoptera: Comments about this site can be sent to Brett Ratcliffe Site generated on: Parascatonomus aurifex group Coleoptera: The characters of Cyobius wallacei Sharp, a little-known onthophagine scarab kri,ken the Malay Archipelago Coleoptera: Two new taxa from the Lesser Sundas in the genus. Some new and otherwise noteworthy species of Onthophagus Latreille from the Indo-Australian archipelago Coleoptera: The genus Heteroclitopus Peringuey in Kenya Coleoptera: New genera of New World Cremastocheilini, with revisional 197 Coleoptera: Photo by Brett Ratcliffe.
A generic kri,ken of the Afrotropical Bolboceratini Coleoptera: Taxonomic reviews of three small cremastochiliform genera from Asia and Africa Coleoptera: Journal of Natural History Taxonomy of the African genus Placodidus Peringuey Coleoptera: Het vliegend hert Lucanus cervus Linnaeus in Nederland.
The Asian genus Pleuronota Kraatz krikkfn allied forms: Interessante Aphodius -soorten Coleoptera: A neglected trichiine beetle from Costa Rica Coleoptera: Tijdschrift voor Entomologie A reappraisal of the Bolboceras iphicles Kolbe from southwestern Africa Coleoptera: A new Haroldius Boucomont and a new Tesserodon Hope from.
New and otherwise noteworthy cetoniine beetles. Some peculiar cetoniine beetles from South West Africa.
A new species of Onthophagus Latreille from Sumatra Coleoptera: A remarkable new two-horned species of Onthophagus from. A new Coenochilus from southern Africa Coleoptera: A new key to the suprageneric taxa in the beetle family Cetoniidae, with annotated lists of the known genera. Blind, flightless termitophiles of the genus Termitotrox in East Africa: A new species of Platyonitis Janssens from Kenya, with notes on the genus Coleoptera: New flightless species of Geotrupes Latreillewith a biogeographical discussion Insecta: First record of the krlkken Amphistomus from the Moluccas.
A new Clinterocera from Borneo Coleoptera: A new genus of small Goliathini from East Africa Coleoptera: Two new taxa from the Lesser Sundas in the genus Onthophagus Coleoptera: New cremastochiliform genera from Africa Coleoptera: Cremastochilodius tristisa new scarabaeoid genus and species from Brazil.
New species of Taeniodera from the Sunda Islands Coleoptera: Two new species from Kenya in the physogastric termitophilous genus.